The sky really was the limit for our IT Team Leader Andy Goody this weekend when he took to the skies to complete a 12,000ft skydive. Not only did Andy tick this experience off his bucket list, he also used the opportunity to start to raise money on behalf of CaseWare's three charities; Guide Dogs, Kent, Surrey & Sussex Air Ambulance and Macmillan Cancer Support.
But it took a lot for Andy to prepare for the skydive. Returning from a holiday a few weeks before the skydive and with a weight limit to meet, Andy had his work cut out for him.
Here Andy shares his experience with us:

"Taking part in a skydive has been a lifelong dream of mine. So, when back in July I had the opportunity to purchase a skydive experience, I jumped straight at the chance and booked the date – Saturday 24th September 2016."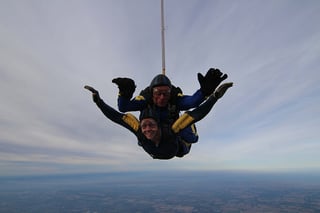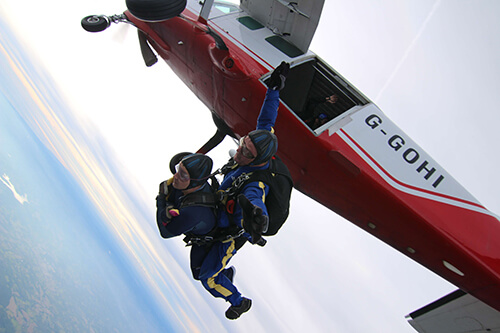 "My thoughts quickly turned to the fact that many people do this type of activity for a charity, and what a wonderful way for me to offer to do this for CaseWare's nominated charities.
My first challenge however was to meet the jump weight limit of 14 and a half stone – fully clothed! Only two weeks before the skydive I weighed in at 15st 10lb and began to worry that I would not be able to achieve the desired weight. But my thoughts quickly turned to why I was doing this, not only for my own achievement, but to help raise money for our worthy charities. So I embarked on a very strict detox to prepare.
When the day arrived I was pleased to have reached a weight of 14st 4lb meaning there was no turning back. Heading up in the plane I felt excited - it was a bit of a whirlwind so I didn't really have time to get nervous. Once up, the only way down was out of the plane door. I have to say it was the most exhilarating experience of my life. One I would definitely do again!"
See Andy taking to the clouds in this short video of his experience: