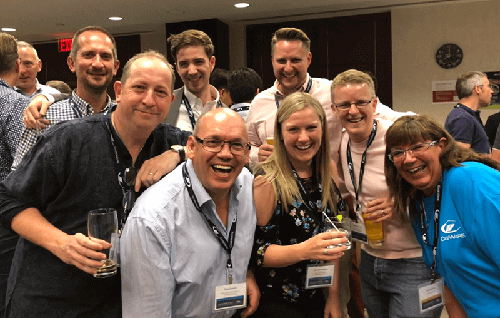 Written by: Simon Warren, Managing Director
September saw the bi-annual CaseWare International Distributors conference, with a busy 4 day agenda.
All our international businesses are clearly at a significant point in their growth, committing to the continued development of their huge desktop installations around the world, while building creative and fast-moving cloud development teams.
That transformation is fostering great innovation and ingenuity within the CaseWare community, and in a very short time those groups have already built and released over 50 cloud applications. From what we saw the schedule for the next 12 months promises to multiply that number considerably.
Presentations from the Toronto teams were combined with those from the distributors, and the UK presented its most recent work, most notably the Engagement Trackers and the very exciting imminent release of our new personal tax application
From an international perspective CaseWare announced the release of Analytics AI, the new Cloud incarnation of the data analytics tool. Aimed at firms of all sizes it's a complete re-imagining of Analytics by the experienced CaseWare IDEA team, and aimed directly at the external audit market. Clients in the UK will see it appear in the very near future, and it will be gradually embedded in both the Mercia and HAT cloud audit templates.
In brief, the agenda across the 4 days covered;
Long-term technology vision –

The Data Driven Audit
Domestic and international strategies
Business models for the cloud
Latest and 'coming soon' cloud applications from around the world
Analytics AI
CaseWare success stories in Government & corporate institutions
CaseWare's Global accounting networks
The marketing vision
Alongside all the technical content it's also a great opportunity to meet up again with colleagues from around the world, and a real pleasure to see a new generation of CaseWare staff. It's very exciting to see the staff continuing to grow the kind of international network that make the CaseWare group such a powerful and successful team, and delivering an unrivalled depth of knowledge and experience to its client base.
With technology transforming and all of the CaseWare businesses growing it seems likely that this will become an annual event and based on our experience over the years, an essential part of the CaseWare calendar.
And finally, for those that want to see some live financial AI in use, take a look at this quick video and try out the site link mentioned at the end. Real data, real AI.