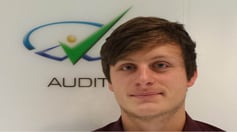 Phil joined CaseWare's Technical Support Team 4 years ago and moved to the Education and Media Team in September 2018. Before joining CaseWare Phil spent 6 years working for Tesco whilst he was studying at college and university. Whilst at university, Phil gained a degree in Accounting with Management which led him to a career at CaseWare.
What do you enjoy about working at CaseWare?
The ever-changing nature of the role. The variety within the role means that one day I can be creating instructional videos for our KnowledgeBase, the next day I am presenting a webinar to hundreds of people.

Also, coming up with new creative ideas on how to promote our work is something which I really enjoy.
How has your role changed since the outbreak of Covid-19?
I had just started increasing my role and taking on live training with our clients when we went into lockdown in March. Since the outbreak we've obviously spent a lot of time at home which has meant spending more time building toot-toot tracks for my young son! This obviously has its own challenges, trying to juggle babysitting and work but I think we cracked it!

In terms of work, because we haven't been out on the road as much having face-to-face training with our clients, we've had the chance to focus on updating and producing new courses within Articulate Storyline and Rise 360 to really enhance our online training offering. We've also been able to bring in new content like our "What's New at CaseWare" which we release on LinkedIn every month.
What is your biggest challenge now?
My biggest challenge at work is managing the work-life balance, by ensuring that my work gets done and the hours get put in, but also ensuring that my son has the attention and care he needs.
How have you adapted to working from home, and do you have any tips to share?
I adapted really quickly to working from home. My biggest tip would be to make sure you exercise when you can, and also try and keep your fingers out of the cookie jar. It's really easy at home to grab a snack here and there because we're all much closer to the kitchen!
Another top tip would be to speak to your colleagues and friends. Working from home can be lonely if you're on your own so make sure you take a moment to see how people are doing – especially if they live on their own. It might seem like a small thing to you but it can make someone's day.
What is your favourite TV show?
As a result of the lockdown I've been getting into Netflix a lot more. I've enjoyed You, Ozark and White Lines. My favourite TV programme though is Breaking Bad. I can never get enough of it.
What is your favourite dinner?
Toad in the hole
What was the last book you read?
Having a toddler running around, I'm always reading bedtime stories like The Lion King, Aladdin, Toy Story and Peppa Pig!
What was the best holiday you have ever been on?
I went to the USA in 2017 and visited Los Angeles, San Francisco and Las Vegas. Can honestly say Las Vegas was the best place I've ever visited. When they say 'the city that never sleeps' they're not wrong.