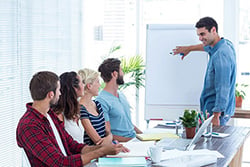 Written by: Ashley Goldsmith, Product Manager (Accounts)
Without doubt, one of the most difficult recurring tasks that we have is to decide upon the content of our ePack updates.
There are many different factors to consider for every update, and whilst we cannot guarantee that every client request is met immediately, we have systems in place to ensure that fixes will be addressed in subsequent updates.
Technical support
The vast majority of requests come via our Technical Support department who log issues with the Product Management team on a daily basis. These issues are monitored to consider trends and the need to increase the priority of a given issue. This is particularly the case in the period immediately following the release of an ePack, as despite all of the extensive test scenarios, regression tests and error trapping which is undertaken by our Quality Assurance team, our user base will explore the entirety of a template and this may result in the need for "Hotfixes" to address particular problems urgently.
Legislation changes
We also need to consider the changing legislative landscape and by definition, compliance updates will have a very high priority and therefore these updates will often jump to the front of the queue when it comes to formulating the contents of the next ePack.
Our compliance team map out future legislative changes on the road map in order for us to factor these in, as best we can, when planning for future updates over the next 12 to 18 months. The vast majority of these changes arrive with a known adoption date (for example the Triennial review of FRS 102 becomes mandatory for periods commencing on or after 1 January 2019) and often early-adoption is permissible.
We will always aim to introduce these changes as soon as we possibly can – ideally in time for the early-adoption window to be open – but sometimes it will simply not be possible (due to multiple factors) to do this. We do, however, ensure that mandatory adoption dates are always met.
Mitigating circumstances
There are also exceptions to this rule. The biggest headache that we have occurs when compliance changes arrive out of the blue, with immediate effect. An example of this would be the Irish Revenue's adoption of the combined DPL taxonomy recently. This became the only accepted taxonomy to electronically file financial statements overnight, but we were unable to automatically tag the content until the date of release as we had no taxonomy to use until then!
We will always try to react as quickly as we possibly can to changes of this nature, but this will always be at the expense of other fixes or updates which have been requested.
Software enhancements
We always monitor the features available within the software and look to enhance the functionality whenever we can in order for it to be made as user-friendly as possible. We hold regular Product Focus Groups internally to discuss suggestions for new features and we also welcome feedback at our external user group sessions.
These sessions were the origin of the new Notebuilder feature which was rolled out to the AccountsAdvanced platform last year.
Again though, these new features are often considered "nice to have" rather than being essential and therefore it can prove difficult to justify the amount of resource required to build in and test these new features within an ePack cycle.
Not another update!
We receive various comments about the size and regularity of our ePack updates. These vary from those (usually larger firms, with a large I.T. overhead) who would welcome less frequent, but larger updates; to those who wonder why it will be another two months before a particular issue can be addressed – having just missed the cut for the previous update.
As you can see it is a balancing act, and in my time as Product Manager, we have settled into a routine of releasing between 6 and 8 updates per year, per template as that would appear to be the happy medium that we have arrived at.
Internally, we have discussed formally fixing the update cycle – perhaps to a quarterly basis – and this may be something which we move towards in the future, but we need to temper this move towards a more structured release cycle with the need to react quickly to sudden changes in the reporting landscape.
So when will my issue get fixed?
Well, as you can see from the above, that will depend! Our internal issue logging system has improved markedly over the last few years and refinements to the system continue to be made. As each issue is logged, our compliance team give the "card" an initial priority rating and these scores are reviewed periodically to ensure that even the lowest priority cards are included within an ePack over the fullness of time.